Cyber Security, Cloud & Perimiter
Anti-spam solutions, BAS (breach & attack simulation), SASE (Secure Access Service Edge), WAF (Web application firewall), CDN (content delivery network), EDR (endpoint detection & response), XDR (extended detection & response), EPP (endpoint protection platform), BOT management, load balance / ADC (application delivery controller), DDoD protection, e-mail & antifraude protection, SDP (software defined perimeter).
A10 NETWORKS
ADC (Application delivery controller), CGNAT (IPv4 extension and IPv6 migration) and TPS (WAF and anti-DDoS protection)
High availability with less than one second of error switching; Global server load balancing (GSLB); Server load balancing; Deep packet inspection (DPI) with application SLA; Scalability for peak loads; CGNAT: IPv4 and IPv6 translation and management.
ALGOSEC
Network security policy orchestrator, manages the leading physical, virtual and cloud firewalls on the market today with integration to Checkpoint, Cisco, Fortinet, Juniper, AWS, VMware, Microsoft Azure.
Flexible integration with: SIEM solutions, identity management systems, ITSM, orchestration systems, vulnerability systems and more.
Algosec also aligns with business process, including different CRM and ERP applications.
APPGATE
Leading Software Defined Perimeter company bringing together a set of differentiated security and analytics products and services ready for cloud and hybrid environments.
Set of differentiated security and analytics products and services ready for cloud and hybrid environments. We have a solution called AppGate SDP which is an industry-leading, software-defined perimeter solution, the Total Fraud Protection suite of risk-based authentication and digital threat protection capabilities, and a number of innovative threat management and analytics offerings.
BARRACUDA
Wide security portfolio: email protection (anti-spam), CloudGen Firewall, storage and data protection (Backup and Archiver).
Flexibility of solutions, with differentiated support and simplicity of implementation. About 15 years in the market, fully established manufacturer.
HILLSTONE
Next Generation Firewalls
Best value (Price/Performance) according to NSS Labs, lowest cost, visibility and management, performance. Monthly payment, facilitated.
NETSKOPE
Netskope is a cloud security platform that provides a range of solutions designed to help organizations protect their data and ensure compliance across all cloud services and applications. The Netskope platform offers a variety of features, including cloud access security broker (CASB), secure web gateway (SWG), data loss prevention (DLP), and more.
One of the key solutions offered by Netskope is their CASB solution, which provides visibility and control over cloud applications and services used by an organization's employees. This solution allows administrators to enforce policies that control access, usage, and data protection across all cloud services, including SaaS, IaaS, and PaaS applications.
NONAME
Noname Security provides an API security solution designed to help organizations secure their APIs and ensure the integrity of their data. The Noname Security solution is based on a unique approach that employs virtual API protection technology, which enables organizations to protect their APIs without requiring any code changes or software installations.
The Noname Security API security solution provides a range of features, including API discovery and inventory, threat detection, access control, and more. The solution is designed to work with a variety of APIs, including REST, SOAP, and GraphQL.
One of the key benefits of the Noname Security solution is that it provides real-time visibility into API traffic, allowing organizations to monitor and analyze all API activity. The solution uses advanced machine learning algorithms to detect and prevent threats in real-time, helping organizations to stay ahead of potential security risks.
NOZOMI NETWORKS
The solution is designed to protect critical infrastructure and industrial operations from cyber threats. It includes a real-time network visibility platform that provides full network visibility and anomaly detection, enabling organizations to quickly detect and respond to cyber threats.
NSFOCUS
NS Focus is a provider of cybersecurity solutions that help organizations protect their IT systems and data from cyber threats. The NS Focus solution is designed to provide a comprehensive approach to security, including threat detection, response, and prevention.
One of the key features of the NS Focus solution is its vulnerability management tool, which enables organizations to identify vulnerabilities in their IT systems and prioritize them for remediation. The vulnerability management tool provides a real-time view of the organization's security posture, allowing administrators to quickly identify and address potential vulnerabilities before they can be exploited by cybercriminals.
In addition to vulnerability management, the NS Focus solution also includes a variety of other security tools, including intrusion detection and prevention, network and application scanning, and malware detection and prevention. These tools are designed to work together to provide a holistic approach to cybersecurity, helping organizations to detect and prevent a wide range of cyber threats.
PICUS
Breach and Attack Simulation (BAS) solution with continuous evaluation of network, endpoint and email security parameters and configurations.
Partnership with companies such as CheckPoint, Mcafee, PaloAlto enables the development of a complete solution, covering evaluation, measurement and remediation of network security parameters and equipment.
PROOFPOINT
Solutions for protection, control and administration of messaging and electronic mail systems.
Isolated leader in Gartner, complete solution to meet internal policies, regulatory agencies and audit demands, with technological partnerships with Palo Alto, Mcafee, F-Secure.
RADWARE
Application Security, Infrastructure Security, Link Balancing, Server and Application Balancing, SSLi, DDoS Protection, SSL Offload, Anti Bot Solution, WAF Solution, Cloud Workload Protection CWPP, Cloud & Automation, SaaS, Service Provider, Financial Services.
RIDGE SECURITY
The company's solution includes an artificial intelligence-based security platform that uses machine learning techniques to identify and prevent threats in real time. The platform provides complete network visibility and anomaly detection, and offers advanced security analysis and automated threat response. In addition, the solution allows integration with third-party security tools, enabling comprehensive protection against cyber threats.
SENTINEL ONE
Centralized management, lower performance impact for the user, multiple machine learning techniques; ROI leader in NSS Labs, visionary in Gartner. Guaranteed against Ransomware and simple and fast rollback in case of infection. Multi-site management for MSP (SaaS) or large organizations.
SKYHIGH SECURITY
The platform provides complete visibility into cloud usage, including threat detection, data classification, and security policy enforcement. In addition, the solution also provides compliance and auditing tools to help enterprises meet security regulations and standards.
Advanced Datacenter Infrastructure & Private Cloud
Soluções para back up e recuperação de dados, switch / NDR (network detection & response), cloud mobility, network packet broker (NPB), back up for microsoft office 365, CGNAT, NGFW.
ARISTA
Switches de alta performance e baixíssima latência.
Hardware e Software integrados para fornecer solução de alta performance e visibilidade de ambientes virtualizados; Arista fornece soluções muito escaláveis de alto desempenho, com baixa latência, enormes tabelas de endereços e buffer. 
EXAGRID
Target de Backup hiperconvergente em camadas. 
ExaGrid é uma solução de hardware de backup baseada em disco, econômica e escalável, que se integra com a solução de backup existente para oferecer uma maior performance possibilitando: Menor RPO e RTO; Recuperação Instantânea da VM; Performance escalável (crescimento scale-out) mesmo com aumento de dados; Dados frios protegidos com criptografia física AES de 256; Integração com HYCU, Veritas, IBM, Oracle, Commvault, Veeam e SQL. 
GIGAMON
HYCU
Backup/data protection solution with native integration for Nutanix environments. Simplicity of management for Nutanix, vSphere and physical server environments.
100% integrated into Nutanix environments;
100% Software agentless solution;
Supports AHV and ESXi. Applications such as Oracle, exchange, SQL server, Active Directory; 100% Application Focus;
Multiple possible Backup destinations.
LENOVO
Lenovo servers have currently achieved the highest levels of "five-nines" or 99.999% reliability among all conventional server hardware platforms, is #1 on the TOP500 list of supercomputing & HPC company and #1 in SAP Performance.
ThinkSystems
Servers (Tower and Rack, Blades, Mission Critical, High Density); Storages (DAS, NAS/SAN, SDS, Archive, Switch SAN); Network (Ethernet Switch – PoE, 1GbE, 10GbE, 25GbE, 40GbE, 100GbE); Xclarity;
ThinkAgile
Hyperconvergence – HX (Nutanix), VX (VMware VSan), MX (Microsoft), Pivot3; Analytics – SAP HANA; Big Data – Cloudera, Hadoop, IBM; Cloud – Vmware, RedHat, OpenStak Services
Support – 2×4 Warranty Upgrade, Post Warranty, SW Support; Deployment – Installation, Data Migration
TruScale
Pay-as-you-go Data Center
PROGRESS
High performance virtual load balancer and reverse proxy. Includes key functions such as server and application health monitoring, SSL acceleration with FIPS 140-2 support, caching/compression, TCP multiplexing, automation-enabled API, and more.
NUTANIX
Hyperconvergence applied for an enterprise cloud solution.
Isolated Gartner leader for 5 consecutive years, market leader, Net Promoter Score above 90 for 6 consecutive years, simplicity, processing power, centralized management, flexibility of compatible servers (software-only solution), lower TCO.
PURE STORAGE
The world's leading flash storage solution.
Pure Storage was founded in 2009 with headquarters in California, USA. Initially, Pure Storage developed the software for storage controllers and used generic flash storage hardware. It completed the development of its own flash storage hardware in 2015. It also develops products specifically for use with artificial intelligence software.
VEEAM
VIEWTINET
Viewtinet is a highly interactive and customizable data analytics platform that allows companies to explore large amounts of data in an intuitive and efficient manner. In addition, the platform is scalable and offers integration with other business tools, making it an ideal solution for companies of all sizes.
ZADARA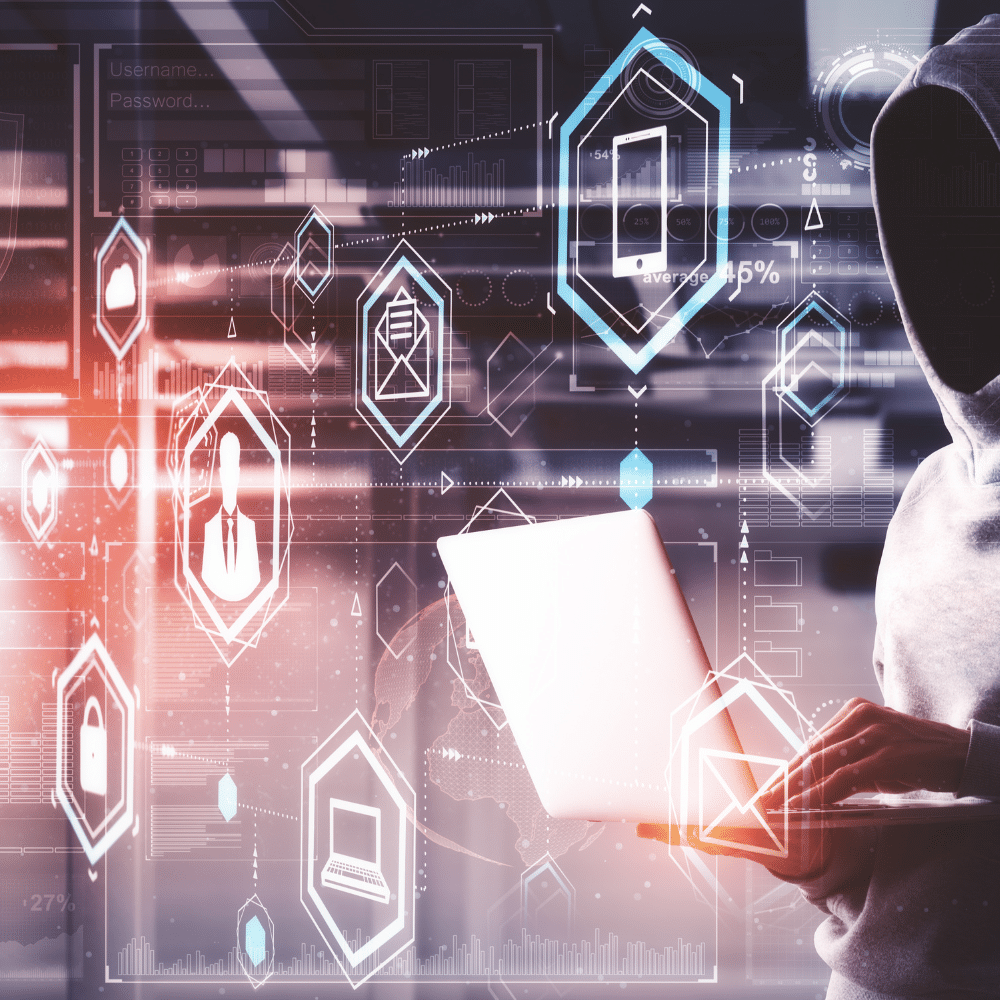 ID Protection & Governance
Solutions for data anonymization, data encryption and protection, network traffic encryption, data classification, identity and access management, MFA (multifactor authentication), PASM & PEDM.
DELINEA
SAFEGUARD CYBER
SAILPOINT
THALES
Thales is a French company focused on Systems and Services for the aerospace, defense and security industries.
A company headquartered in France, it has revenues of about €23B in 2019 and has solutions ready to meet the necessary adaptations to LGPD, with file server protection with encryption and access control, Big Data protection, dynamic masking tokenization maintaining the data anonymization format, and key and certificate management and storage.
VARONIS
A pioneer in data security and analytics, Varonis focuses on protecting unstructured and semi-structured corporate data on-premises and in the cloud.
Varonis Data Security Platform detects insider threats and cyber attacks by analyzing data, account activity, perimeter telemetry and user behavior; prevents and limits incidents by discovering, classifying and blocking sensitive, regulated and stale data; and efficiently sustains a secure state with process automation.