Enterprise-grade, cloud-ready PAM solutions that put privileged access at the heart of cybersecurity strategies
MERGER BETWEEN THYCOTIC AND CENTRIFY
Thycotic and Centrify, two established companies in privileged access management are now Delinea. More than 10,000 companies, including the top 25 largest enterprises in the world, trust Delinea to protect their most critical and high-value assets.
Privileged account management at enterprise scale. Discover, manage, secure and audit access to privileged accounts across your organization.
Establish Safe Deposit Box
Store privileged credentials in a centralized, encrypted vault
Discover Privileges
Identify all service, application, administrator and root accounts to reduce sprawl and get a complete view of your privileged access.
Managing Secrets
Provision and de-provision, ensure password complexity and rotate credentials.
Delegate Access
Set up RBAC, workflow for access requests and approvals for third parties.
Session Control
Implement session launching, proxies, monitoring and recording. Delinea named a Leader again in the 2022 Gartner® Magic Quadrant™ for Privileged Access Management
Thycotic and Centrify Leaders
in the Gartner PAM Magic Quadrant 2021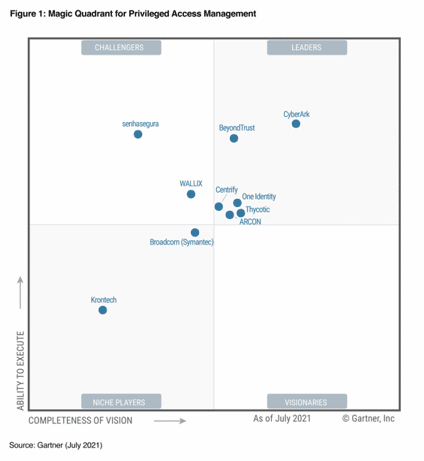 Full privileged access management in the cloud
Software-as-a-service model allows you to sign up and get started right away
No hardware or infrastructure costs with PAM in the cloud
No provisioning, patching or maintenance overhead
Elastic scalability as you grow
Controls and redundancy provided by Azure with 99.9% uptime SLA
Industry-leading PAM
for internal deployments
Full control over your systems and end-to-end security infrastructure
Deploy software in your on-premises data center or in your own virtual private cloud instance
Comply with legal and regulatory obligations that require all data and systems to reside on-premises
The easiest to use and fastest to deploy password management tool
Supports up to 10 users, protecting up to 250 privileged account passwords
Integration with Active Directory
Storage of privileged passwords with military-grade encryption
Lifetime license that does not expire
RDP/PuTTY compatibility
Mobile applications
And much more, all in one efficient tool!
Information on Licensing,
Special DELINEA Values and Conditions please contact us!